Vended Galaxy TM Washer Extractors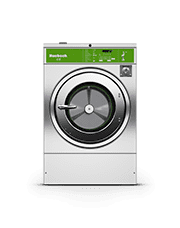 Huebsch® washer-extractors take quality, reliable performance and efficiency to new heights. Featuring user-friendly Galaxy controls, Huebsch washer-extractor deliver a variety of wash options that customers want and owners appreciate for their profit potential.
Available in 20, 30, 40, 60, 80 and 100 lb capacities, Huebsch®'s washer-extractors with eBoost are built for maximum performance.
Product Features Include:
Improved technology spins up to 200 G-Force, removing more water for shorter drying times and lower energy bills.
Proprietary inverter drive technology provides smooth, reliable power for better wash and extraction performance.
Improved cylinder/sump system design optimizes water use for maximum cleaning power and customer satisfaction while reducing non-wash water below the cylinder.
Patented Water Guardian™ technology detects leaks for both the drain and fill valve, eliminating wasted water and resources.
Computer-optimized frames are stronger, quieter and vibrate less.
Seals and bearings are designed with optimal corrosion resistance, seven times the water protection and premium heat and wear protection.
Includes an industry-leading, transferable 10-year warranty.
Slate control panel comes standard on washer-extractors, tumble dryers and stacked tumble dryers with Galaxy 600 and Galaxy 500 controls. Cityscape and Citron are available upgrades.
More About Our Products
Watch The Video to learn more about the evolution of Huebsch® Laundry.
Request a quote
Fill out a form to request a quote from a Huebsch sales specialist.
Find an authorized Huebsch distributor in your area.

1.800.553.5120
Have a question? Need help? Call or click to contact Huebsch today.

Learn more about the industry-leading innovation and efficiency of Huebsch laundry equipment.

Sign Up For Future Special Offers