Investors
You need only look around a commercial area to see the success of businesses catering to our fast-paced society needs. Drive-through coffee shops, 10-minute oil changes, fast-food restaurants and automatic car wash franchises are just a few of the models turning time savings into profits.
Coin laundries are providing similar efficiency with their large, multi-load commercial laundry equipment. These machines enable customers to reduce what would be an all-day task in their homestyle washer and dryer to just one hour at a vended laundry.
Investors have been parlaying time savings into big profits, particularly in the United States, where coin laundries generate $5 billion annually, according to the Coin Laundry Association (CLA).
Adding to the appeal of self service vended laundries as an investment opportunity is the fact that clean clothes are a necessity. One can choose not to go out for lunch, a premium cup of coffee or even wash their car. But clean clothes are a must. That fact also makes the business virtually recession proof.
And coin laundries deliver benefits other ventures can't, starting with no franchise fees. Once you open a vended laundry with Huebsch® equipment, the business is all yours. Unlike many other small business ventures, vended laundries have no on-going corporate mandates or annual franchise fees.
Additional Benefits Include:
Great Potential ROI of 25 to 35 Percent
Cash Business
Payment Upfront Before Service
Off-Site Management — You Determine Your Own Level of Involvement
No Payroll/Withholding Headaches
With Huebsch®'s more than 100-year history, superior market knowledge, wide variety of services and reliable commercial laundry equipment, we have all the tools available to assist entrepreneurs in opening a coin laundry, whether as an added source of income, retirement investment or a full-time business venture. To learn more about the self service laundry business and how Huebsch® is with you every step of the way, select from the links on the left.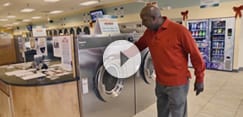 Watch how the owners of Laundry Café invested in coin laundry to create success for themselves as well as a great experience for their customers.
Success Stories
Learn how Huebsch® is helping customers around the world reach their business goals.
Watch Videos
Request a quote
Fill out a form to request a quote from a Huebsch sales specialist.