Huebsch®

Financial:
Your Commercial Laundry Lender
Backed by the global leader in commercial laundry, Alliance Laundry Systems, Huebsch® has the experience, knowledge and resources to offer unmatched finance solutions designed specifically for the laundry industry. Whether you're a seasoned investor or new store owner, purchasing new equipment or refinancing, Huebsch® Finance understands your business and cares about your goals.
Our team of laundry experts can develop a comprehensive plan tailored to your specific needs, with services including:
Finance programs tailored to your needs
Fast decisions
Low, competitive rates
No hidden costs or prepayment penalties
End-to-end account management
Personalized service
Complete security and confidentiality
Finance New Commercial Laundry Equipment
Whether you're upgrading your current equipment or just getting in the coin laundry industry, we have a financial program designed to bring you the unmatched innovation of new Huebsch® equipment at a rate you can afford.
Pre-Approval Requirements:
Pre-Approval Replacement Equipment
One-Page Credit Application
Pre-Approval for New Store Transactions
Credit Application
Personal Financial Statement
Three Months Bank / Investment Statements
Once you are pre-approved, you and the local Huebsch® equipment distributor will put together an equipment mix that fits your store needs and your financing budget.
Financing for Laundromat Acquisitions
If you're interested in purchasing an existing Laundromat, Huebsch® Financial is your one-stop resource. We offer financing for up to 65-80% of the value of your target purchase. Plus, we can finance the purchase of an existing location with the purchase of new Huebsch® equipment. Whatever financial advice or assistance you need for your acquisitions, Huebsch® can help. It's part of our dedication to building long-term, trusted relationships with our customers.
Discuss your financial needs with your Huebsch® Financial Manager.
For more information on Huebsch® Financial services, fill out the Let's Talk box on the right side of the page. Or, click here to apply today.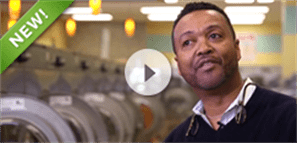 Business partners experience growth and expand to second store with Huebsch® Financial.
Credit Application
Complete an easy, one-page application and you could be pre-approved within 24 hours.
Apply Today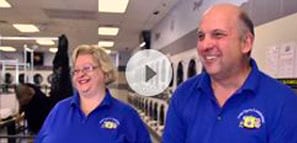 Discover how Huebsch® Financial develops personalized financing plans to help laundry owners realize their business goals
Request a quote
Fill out a form to request a quote from a Huebsch sales specialist.