Commercial Tumble Dryers
The name Huebsch® is synonymous with top performing on-premises commercial tumble dryers. By balancing airflow and heat input, Huebsch® commercial tumble dryers deliver fast drying without wasting energy.
Available in 25, 30, 35, 50, 55, 75, 120, 170, 200, stacked 30 and stacked 45 lb capacities, Huebsch® tumble dryers offer efficient, dependable drying every time.
Key Product Features:
25 – 55 lb
Fast and Efficient
Axial Airflow Design
Digital or Microprocessor Controls
Heavy-Duty, Multi-Rib Poly-V Belt
Stacked Models Available in 2×30 and 2×45 lb Capacities
Reversing Option Available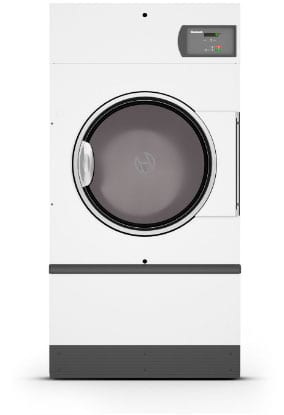 50 – 75 lb
Fast Drying, Energy Efficient Design
Quiet All-Belt Drive System
Digital or Microprocessor Controls
Optional Fire Suppression System
120 – 170 lb
Fast Drying With Reversing Cylinder
Quiet All-Belt Drive System
Self Cleaning Lint Screen
Optional Fire Suppression System
200 lb
Galaxy™ Microprocessor Control Offers 30 Programmable Cycles & 3 Cycle Types
Energy-Saving Over-dry Prevention Technology (OPT) Available on Galaxy™
High-Performance Heater Box
Self-Cleaning Lint Screen
Optional Combustion Auto Response Equipped System
Concentrated Airflow Pattern
Request a quote
Fill out a form to request a quote from a Huebsch sales specialist.