10 Tips for Picking the Perfect Laundromat Location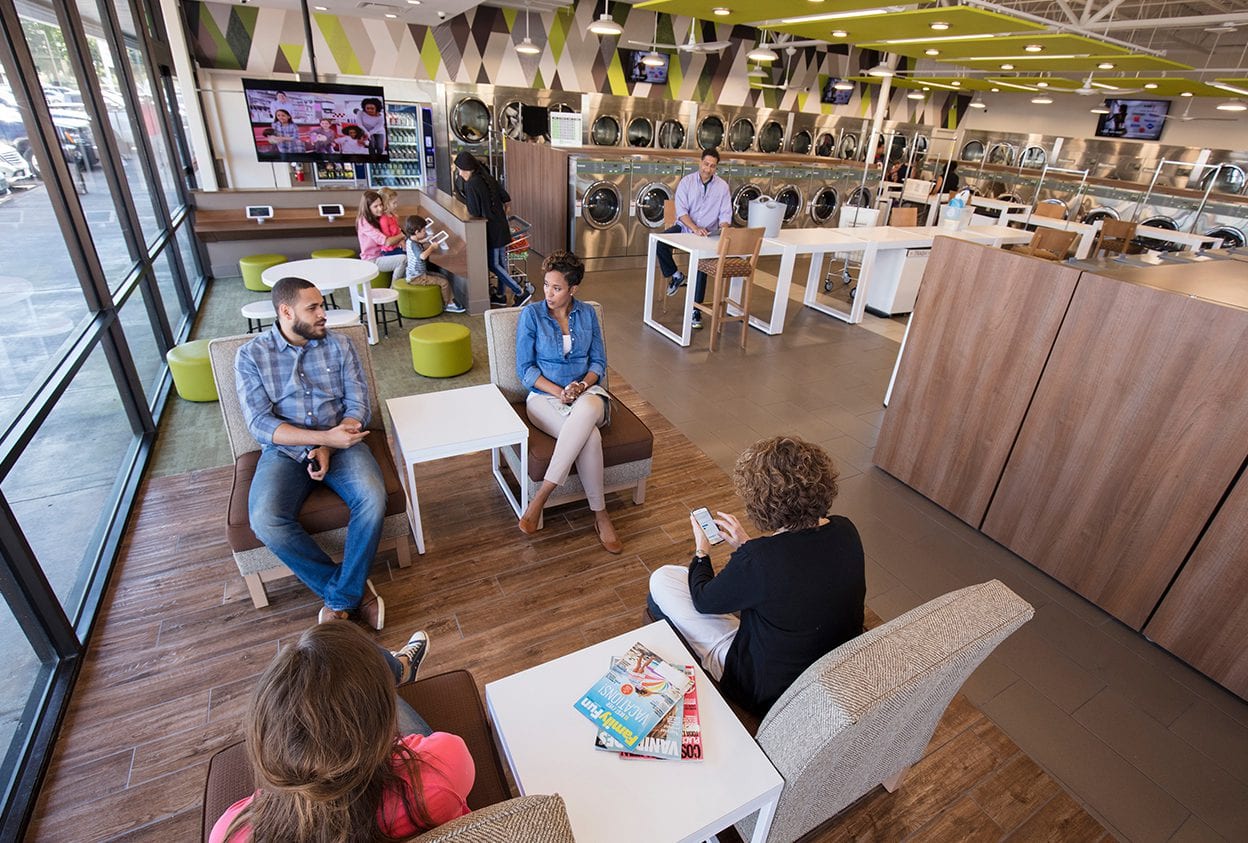 Picking a location for your laundry business may be the single most important thing you do as a business owner. Finding the right location is crucial for every aspect of your business moving forward. If you're considering purchasing an existing laundromat or searching for a site to build a new facility, we've got some tips to help set you in the right direction.  
Know your demographics.
Statistically, laundromats attract a lot of renters and lower-income families. With that in mind, locations that are near apartment buildings, trailer parks, universities, and low-income housing are generally your best bet. If you're leasing a building in a strip mall, what are the neighboring businesses and what kind of traffic are they bringing in? Businesses that target a similar demographic, such as convenience stores or general stores, may help draw customers in and make good neighbors. Businesses catering to a different clientele, such as an expensive or upscale boutique, may not. You'll want to do plenty of research into the around surrounding a potential laundromat location to know who your customer base is and how to tailor your marketing, services, and overall business plan accordingly.    
Research the surrounding competition.
When it comes to the laundry industry, you're not just competing against other laundromats. You're also competing against on-site laundry at apartment buildings, dry cleaners, and fluff and fold services in the area. What can you bring to the table that these others can't? Researching these businesses can help you figure out what services and amenities you may want to offer at your facility. Since these businesses are already established in the area, it's up to you as a business owner to figure out how your business can stand out.   
Keep in mind, researching the competition isn't a one-time thing. Their businesses will grow, expand, and change, so you have to be sure you're keeping up.  
Inspect the building. 
Obviously, the building itself is going to be important. Just like when buying a house, you'll want to work with experts to make sure everything is safe and good-to-go. A few things to ask about or keep in mind include: 
Water and electricity hookups. Is it equipped to handle a laundromat?

 

When will big-ticket items — such as the roof, siding, or heating and air conditioning — need to be replaced or updated? These can be expensive and need to be worked into the overall financial plan. 

 

Is the location accessible for patrons who are handicapped, have mobility challenges, or even using strollers and laundry carts? 

 
You will also want to ask about heating, cooling, and other general costs associated with maintaining the building to give you an idea of what your ongoing expenses might be. If you're leasing your building, you want to make sure these items are clearly defined in your lease agreement.   
Look for visibility.
Good visibility is important when it comes to both drawing in customers and keeping your investment safe. First off, you want a building and signage that's going to be easily seen and accessed from the street. That helps grab attention. Buildings that are tucked away or hidden behind fencing or shrubs are easy to miss as people are driving or walking by. If it was hard for you to find, it'll definitely be hard for your customers to find. Again, for laundry investors who are leasing a location, check with property owners regarding any changes you'd want to make to improve visibility, such as removing trees and shrubs or adding windows.   
Secondly, as you look to protect your investment, the more open and visible your building is, the better. Having a building that's highly visible makes it safer for employees and patrons. Vandals will have a harder time committing crimes if their actions are noticeable from surrounding businesses and houses, so you'll be less of a target. Plus, a building that's out in the open, without other buildings or landscaping obscuring the view, is easier to monitor via security cameras. Incidents are rare, but it's best to be prepared.  
Pay attention to parking and transportation. 
You'll also want to make sure there's adequate parking for your business. Off-street parking becomes very important as customers are lugging heavy loads of laundry and bulky laundry baskets. Not having enough can be a huge turn off and actually cause guests to turn to competitors. Employees, delivery drivers, maintenance crews, and other people will also need parking options. When looking at parking, consider: 
The number of spaces available.

 

If it's a shared parking lot, how much of it is filled with traffic from other businesses?

 

Parking permits that might be required. 

 

Parking laws or ordinances that may impact your business

 
Don't forget to look into the public transportation options as well, especially if you live in an urban area. Many guests may choose to access your laundromat this way, so you'll want to pay attention to how close you are to bike paths and bus, train, and subway routes.  
Check into security. 
Again, the smartest business owners are the ones who are always prepared — just like the Boy Scout motto. Before choosing a building or signing a lease, take some time to research safety and security around the neighborhood. Contact the local police department and get their insights or browse through public police reports. Newspapers and other media outlets can also be a good resource. This can give you some insights into what the neighborhood is really like. In addition, take a look at how far the potential laundromat location is from police stations, hospitals, and fire departments in case of an emergency.  
In a leasing situation, property managers may already have some type of security in place, especially in shared areas, such as parking lots of hallways. It's worth asking what's included in the rent or what the property owner might pay for. They should also give you a rundown of how it works.   
Look at environmental issues and regulations. 
Oftentimes businesses don't take note of environmental issues until it's too late. As good stewards of our resources and good business owners, you should always keep environmental factors top of mind. A few things to consider include: 
Water regulations are common, so it is important to research any local or federal rules and regulations that may impact you. 

 

Note if there are any protected wildlife in the area. This could impact any future expansion, renovation projects, or even pest control efforts. 

 

Insurance rates and policies may need to be adjusted if your location is at higher risk of flooding, earthquakes, or other natural disasters.

 

Use 

energy-efficient laundry equipment

 to keep utility costs and environmental impact low. Our efficient machines help cut down on water use and dry times, plus 

Galaxy Controls

 allow for customization that helps optimize loads while creating additional revenue opportunities for laundromat owners. 

 
Get to know the neighbors. 
As the saying goes, "no man is an island." Laundromats often do well when located near other stores that attract similar clientele, such as gas stations, general stores, or even low-cost cafes and restaurants. Take the time to research nearby businesses and get to know people. Networking with fellow businesses is a smart business move for a number of reasons: 
It can spur partnership and collaborative opportunities.

 

They can refer their customers to you and vice versa.

 

They may have important insights into the community and local customer base. 

 

They're another set of eyes on your facility when you're not around. 

 
As noted above, the surrounding businesses can have a huge impact on foot traffic and the type of clients that are drawn to your business, particularly if you're in a shared facility or strip mall-type of building.  
Read all documents and agreements carefully. 
 This is a no brainer, but we felt it was worth repeating. As with any business, you'll want to pay attention before signing anything that's legally binding. Make sure everything is clear in your lease or other paperwork. If not, don't sign it. Getting a legal team you can trust to back you up throughout the life of your business is a must.  
Consider expansion and growth opportunities. 
Be sure you're thinking long-term as you're looking at various buildings for your laundromat business. If you plan to grow or expand, you'll want to make sure the location fits that business plan moving forward. Do you want to build a new facility, purchase an existing one, or lease the building? Even if you don't plan to do any renovations, remodeling, or expansions for a while, it might be helpful to get quotes, earn what it takes to get the right permits, and weigh your options from the get-go. That way, you can save yourself time and start budgeting appropriately. Prices often rise, so it may even be best to get the project done right away.  
Location, location, location!
The laundry experts at Huebsch are here to help. Choosing a laundromat location is important, but you're not alone. If you need a local perspective, our distributors are true local experts who can share their unique perspective, background information about the area, and insights about the laundry industry as you search for potential laundromat locations. They can assist in performing market and demographic analysis to confirm the viability of a potential laundromat site — essentially offering entrepreneurs an additional, experienced set of eyes and the hard data to support their investment. Interested?