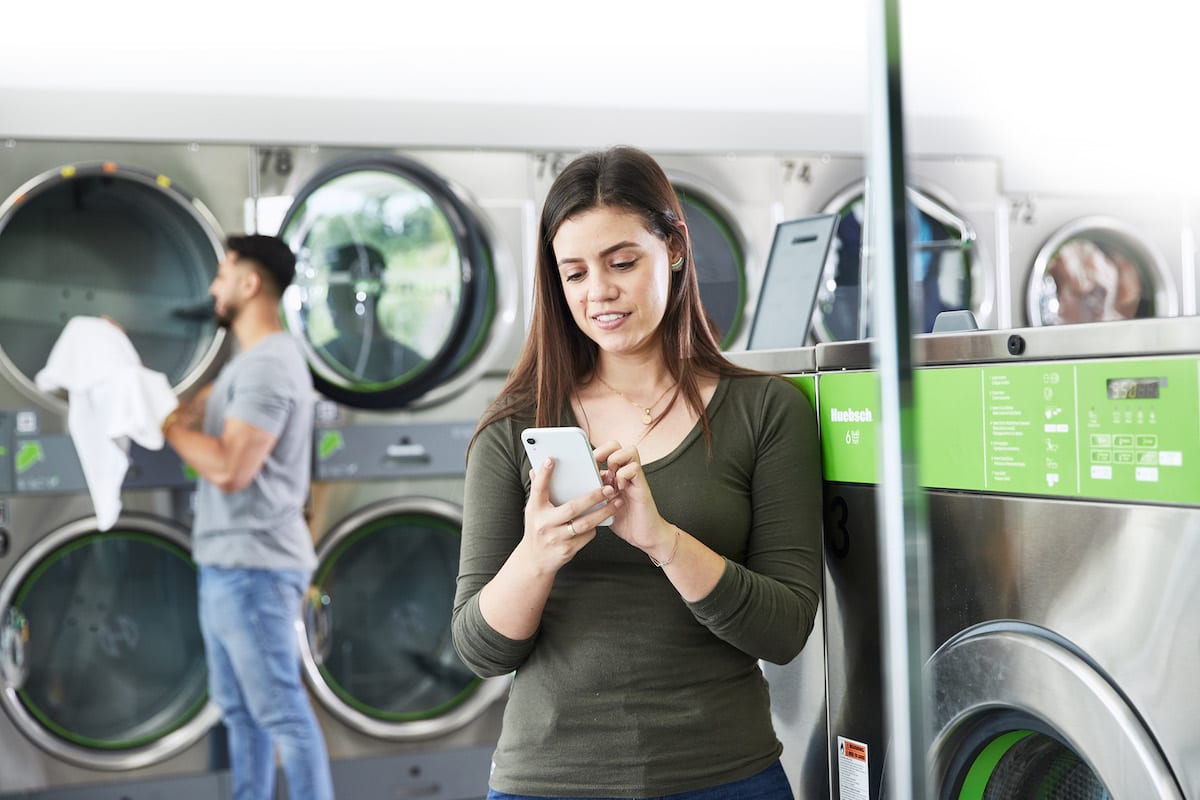 Top five technology advances in laundromats
If you view the laundromat industry as a quarter-counting endeavor, you're coming at it wrong. This previously analog business has developed in an extremely digital way, changing the way owners operate their business. Below just five the technology advances that are changing how this industry operates.
#1 Mobile payment. True, quarters and cash were once the backbone of the laundry operation. Not so today. Laundromats are increasingly opting to go cashless with mobile payment options. This simplifies things for owners – no more emptying coin boxes or bank runs. Coin shortages over the last year have made cashless much more attractive. It also streamlines management and safety.
#2 Remote management. Back in the day, a customer problem required an attendant or trip to the store to remedy. Today, owners have virtually unbridled access to the store 24/7. Laundry management systems streamline management for owners, enabling them to receive machine alerts, remote start machines for customers, and much more. Again, the result is the ability to manage the store on their own terms…even from miles away. With access to an internet connection, laundromat owners are always tuned into store operations, which saves time, increases freedom, and helps deliver a truly exceptional customer experience.
#3 Access to data. In analog times, laundromats demanded a lot of owners if they wanted to understand the various peaks and valleys of their operation. Laundry management systems put vast amounts of data at their fingertips, even packaging it in quick, at-a-glance dashboards in mobile apps. Owners are equipped with fast access to data that will help make their business more agile.
#4 CRM. A CRM, or Customer Relationship Management system takes information to the next level and helps owners leverage specific customer data to design more tailored marketing campaigns. In business, knowledge is king and CRM systems are fast becoming standard in the laundry industry to more effectively market services as well as score the success of marketing activities.
#5 Cycle modifiers. Time was, customers had one or two cycles to choose from and that was it. Today's modern controls enable customers to tailor their cycles with a variety of options. Best of all, these modifiers and premium options come with additional costs, which helps generate not just greater revenue but recoup costs (hot water costs laundries more, so charging more for hot washes helps recapture that cost).
The laundromat industry has evolved and made ownership even easier by streamline operations through a variety of digital tools. This has also brought new investors to a business they may not have previously considered.