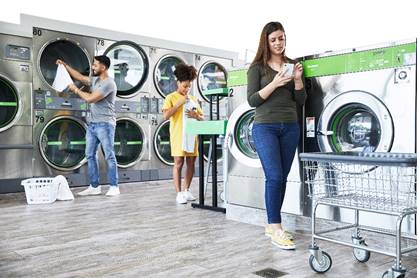 Technology to streamline management and bridge distance gaps
If you're a laundromat owner, you already know location is one of the key elements to a store's success. Ideal locations include areas with a high number of rental properties or apartment complexes, college campuses, schools or neighborhoods near shopping centers and heavily-trafficked roads.
One of the biggest considerations you'll make when opening another location is how far away the new store will be from your first. This decision is often governed by your business plan and the type of technology you're interested in utilizing, as today's laundry management systems make operating multiple stores over longer distances much simpler than in years past.
In fact, there are successful owners with stores as much as 25 miles or more apart.
Your stores don't need to be far apart in order to use modern technology. Operating stores in close proximity can be done manually but is much easier using technology tools: Issues multiply as you reach three or more stores. These problems can include anything from machine outages, the need to remote start machines or offer refunds to building maintenance, and even personnel issues.
The more technology in place to monitor revenue, equipment issues and operations data at multiple locations, the more efficiently the business can be run with minimal presence on-site. Today's systems can set up and manage marketing and promotional campaigns and acquire new customers. A point-of- sale system can help streamline ancillary item sales and wash-dry-fold services, too.
As a result, less oversight is required on your part, essentially freeing you up to focus on additional revenue-generating opportunities such as adding a wash-and-fold service and pick-up and drop-off.
Different washer and dryer brands come with different technology, though. If you're shopping for new machines as part of retooling, ask about technology features with each brand, such as an app system where customers can pay using their smartphone. This will save you time and money in the long run.
The bottom line is technology should make life easier for all parties. If you are juggling multiple systems – one for equipment data, one for card payment, one for wash-dry-fold – technology is creating more work for you. A prudent approach to technology is one that seeks to bundle all laundry operations into one system.
With the right system in place, great distances can be overcome, and you can more efficiently scale your business without losing any oversight or control.