Metropolitan Laundry Machinery Sales Inc. Named Huebsch Distributor Of The Year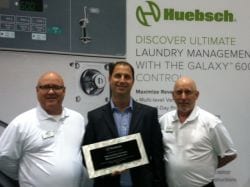 RIPON, Wis. – (July 16, 2013) – Huebsch®, the expert in commercial laundry efficiency, recently named Metropolitan Laundry Machinery Sales Inc., its 2012 Distributor of the Year. The 2012 honor marks the 12th time Metropolitan has been recognized by the Wisconsin-based manufacturer since becoming an authorized distributor in 1996.
The award was presented to Metropolitan based on overall increase in sales from 2011, as well as their devotion to professionalism, employee training and customer support.
"Metropolitan embodies our commitment to customer success and ongoing innovation," said Gary Dixon, Huebsch North American sales manager. "From bettering their knowledge of the industry by taking Alliance Laundry Systems University classes, to servicing clients with only Genuine Parts, Metropolitan's team ensures each customer is provided with the most efficient equipment, service and support."
Metropolitan was founded by Howard Katzman in Queens, N.Y., in May of 1968. Today, Marc Katzman, Howard's son who has been with the organization for the past 16 years, is the current president and chief operating officer.
"My dad instilled his core values and philosophy that the customer always come first and treat all people the way you want to be treated, with honesty, integrity and respect," explained Marc Katzman. "Our whole team understands the sale is only the beginning of the relationship with the customer, which is evident by our long-standing clients and many repeat sales. This recognition provides our staff an immense amount of pride and also helps gain customer confidence in our ability to assist them, and deliver and service the most durable and efficient laundry equipment."
The company has been involved in the development of more than one thousand laundromats and dry cleaning stores, and has helped numerous existing facilities increase their efficiency by securing Huebsch replacement equipment. Metropolitan also provides equipment to on-premises and commercial laundries in a variety of industries.
Metropolitan is recognized as one of the nation's largest and most well-respected distributors of commercial laundry equipment. In addition to their Queens headquarters, Metropolitan has a branch office in Union, N.J., and boasts a large professional sales staff that serves Connecticut, Delaware, New Jersey, New York, Eastern Pennsylvania and the greater-Philadelphia area.