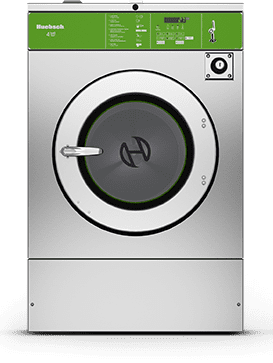 Let's talk washer-extractors
They are the backbone of your laundromat business – washer-extractors. While it may be easy to view washers, much like consumers buying the machines for home, as merely a commodity, the reality is quite different. All washer-extractors are not created equal. In many cases, you get what you pay for in selecting basic, inexpensive models. 
 So, the questions remain – what should you look for and what features are worth paying more for? 
 Bearings/seals. Laundromats are notorious for being hard on equipment. That reputation on the wash side is based on two facts – many customers will overload machines, and many will underload. Whatever the case, both conditions are hard on bearings and seals. It's also worth noting that a bearing job is one of the most expensive repairs your laundromat will see. Protecting your business from this repair starts with selecting heavy-duty bearings and seals that offer multi-lip protection 
 Warranty. Obviously, this goes hand in hand with the above item. However, if you are buying washer-extractors billed as commercial heavy duty, you'll want the peace of mind that can only come from a warranty that backs up that quality claim. 
 Capacity. It's all about options. While there's no one-size-fits-all approach for washers, most laundromat owners will tell you the large capacity machines are popular. Sixty-pound units continue to be workhorses, but owners who have added 80- and 100-pound capacity washers see substantial turns and often wish they had installed a few more. While the up-front price jump on such high-capacity units leads versus 60-pound washers lead owners to be a bit more cautious about adding them, the vend price and cycle modifier potential can produce excellent ROI to offset that purchase price. 
 G-Force. This one is simple: anything less than 200 G-Force will mean disappointed customers, due to longer dry times. The most efficient way of removing water from loads is through high G-Force extraction on the wash side. It's also the key to getting customers in and out in an hour. Don't choose low-speed washer-extractors. 
 Cycle options. Just like there's no one perfect size washer, there's no one perfect cycle. Flexibility in controls is important and worth investing in. The a la carte format is increasingly popular as customers like the ability to tailor cycles – adding extra washes, rinses. By investing in this flexibility, owners reap the rewards of additional revenue, often upward of 30 percent or more, and customer loyalty because of the variety of options. 
 Let's face it, nothing today is getting any cheaper. The pressure is on new investors and current laundromat owners to identify what equipment and features position their business to generate the best possible ROI.