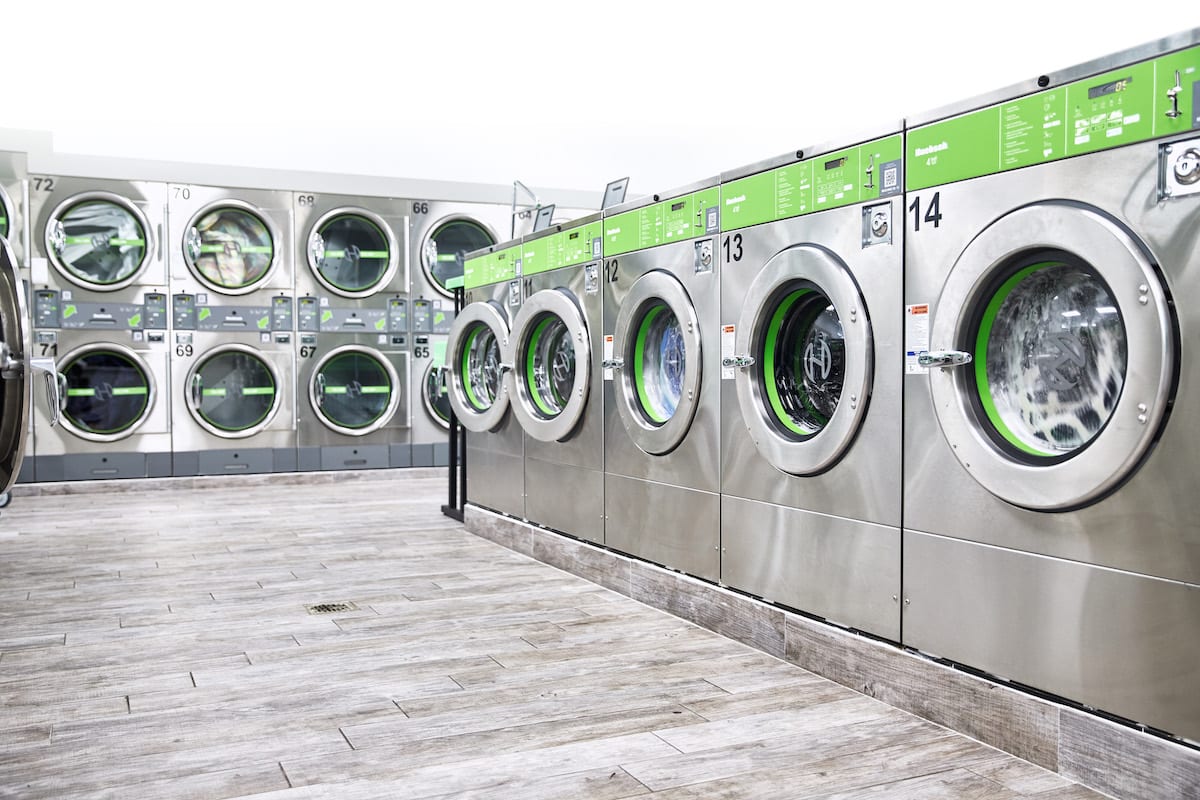 Do you know the washer options for your new laundromat?
The laundromat business is all about options. Savvy owners are dedicated to giving customers a variety of wash and dry cycles to ensure the greatest care of their laundry items. Equally important is offering multiple payment options to match their preferences – coin, credit card, mobile app.
However, new investors also need to be well-briefed on their own options when it comes to equipment. The best distributors will offer a variety of washer models to help them make the most of any location. Below are details on few washer options that new investors should know about as they consider locations for their new laundromat business.
Hardmount washer-extractors. The workhorses of most laundromats, hardmounts require a concrete base (pad) that they are bolted into. The reinforced concrete absorbs and dissipates the high G-Forces that they create in final spin. Because of the foundations, hardmounts are not a fit for second story installs or locations with basements.
Softmount washer-extractors. These washers are a fit for locations that hardmounts are not. They can be used in older buildings and structures with basements. They use heavy-duty springs and shock absorbers to dissipate forces and, thus, don't require reinforced foundations. They offer the same features as hardmounts and can help owners make use of locations they didn't think were an option. One owner, Mike Mancuso, turned to Huebsch softmounts for his Bright Bubble laundry in Scottsville, NY. The area had great demographics, but the 200-year-old building presented a problem for a hardmount install. To read Mancuso's story, click here.
Stacked washer-extractor/tumble dryers. When space is as a premium, stacked washer-extractor/tumble dryers enable owners to get all the benefits of two commercial units in the space of one. Owners who find a great location with excellent demographics but worry about revenue per square foot, turn to this highly unique product and find the pro forma can start to make sense, even if square footage seems light. Customers like the fact that they don't need a cart to roll loads across the laundry to the tumblers; they merely open the top pocket for transfer.
Small chassis equipment. Homestyle front load and top load washers have been popular in laundromat layouts in the past. While many customers are comfortable using such models, they aren't as profitable for owners, due to longer cycles, lower G-Force extraction (top loads) and inefficiency. Savvy vended laundry owners have employed special pricing and other marketing tactics to transition customers to the more profitable multi-load washer-extractors.
Starting a laundromat will bring with it a variety of decisions. Knowing all the options on the wash side will help you decide if your preferred location is one that will work. Lean on your Huebsch equipment distributor for further guidance on layout and equipment sizing, as well as matching dryer pockets to washer capacity.