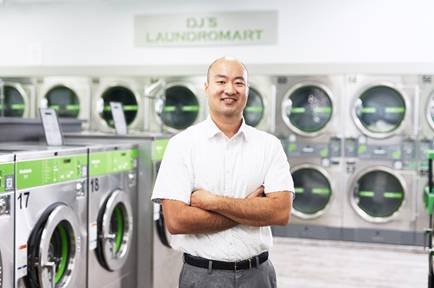 Daniel Yoon Awarded Huebsch Store of the Quarter Honor for Applying Proven Customer Strategies and New Technology
Though not a stranger to the laundry industry, Daniel Yoon adopted a systematic approach when starting his new business by researching, identifying and then applying the proven elements in a successful laundromat business formula. He also leveraged the latest technologies to enhance customer convenience.
Daniel had previously owned and operated a thriving dry cleaning business in Memphis. Yearning for a change and a more temperate climate, he sold the business, moved to Florida and began researching the demand and environment for another dry-cleaning store. Yet, the numbers couldn't match those associated with a laundromat. Knowing that a good distributor would be central to his success, he partnered with Aaxon Laundry Systems, a Huebsch distributor, headquartered in Ft. Lauderdale.
One of the first steps in the process was a site study. With the guidance of Aaxon, he chose a pre-vetted spot in Coconut Creek, Fla. Located in a medium-priced neighborhood, the site also borders lower-income neighborhoods, with several apartment complexes. The location is also accessible to a broad mix of condos, town homes, single-family homes and a large retirement community.
While Daniel conducted his own review of the location's demographics, one of the benefits he noted in working with Aaxon and Huebsch is both do their own research in determining viable laundromat locations — so it gave Daniel peace of mind when Aaxon's recommended and pre-prepared (basic infrastructure) location aligned with his own findings. Once the laundry location was solidified, Daniel (often accompanied by spouse, Jamie) visited 20 successful laundromats to learn best practices and gather inspiration for new ideas.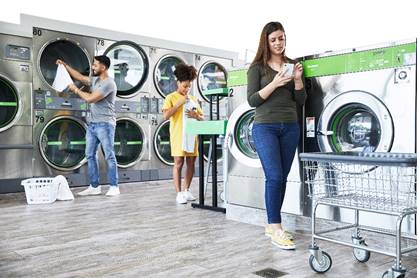 Comfort and Aesthetics
Daniel and Jamie Yoon's vision for the new laundromat was to make it extremely welcoming and comfortable. Daniel also envisioned bringing a "southern hospitality" feel to the operation — something he experienced in Memphis. Instead of accepting some of the recommended color schemes (blues, blacks and darker grays) and layouts, Jamie worked with Aaxon staff to select a palette of lighter grays.
To bring additional warmth to the operation, Jamie selected simulated-wood floor tile and she specified custom bulkheads and shelving. Like other progressive stores, DJ's provides local and national programming on four large-format plasma screens. It also offers surround-sound radio and Wi-Fi (with 110 MPS download speed) allowing patrons to stay connected. Wi-Fi service enhances other technologies the laundromat offers. Vending machines containing detergent, snacks and beverages contribute to visitor comfort and convenience.
Friendly Staff
Daniel's other priority was to hire quality staff to help bring his vision of "southern hospitality" to life. His operation is staffed with two full-time and three part-time employees. Drawing on his own experience, as well as on his visits to other successful operat