Though not a stranger to the laundry industry, Daniel Yoon adopted a systematic approach when starting his new business by researching, identifying and then applying the proven elements in a successful laundromat business formula. He also leveraged the latest technologies to enhance customer convenience.
Daniel had previously owned and operated a thriving dry cleaning business in Memphis. Yearning for a change and a more temperate climate, he sold the business, moved to Florida and began researching the demand and environment for another dry-cleaning store. Yet, the numbers couldn't match those associated with a laundromat. Knowing that a good distributor would be central to his success, he partnered with Aaxon Laundry Systems, a Huebsch distributor, headquartered in Ft. Lauderdale.
One of the first steps in the process was a site study. With the guidance of Aaxon, he chose a pre-vetted spot in Coconut Creek, Fla. Located in a medium-priced neighborhood, the site also borders lower-income neighborhoods, with several apartment complexes. The location is also accessible to a broad mix of condos, town homes, single-family homes and a large retirement community.
While Daniel conducted his own review of the location's demographics, one of the benefits he noted in working with Aaxon and Huebsch is both do their own research in determining viable laundromat locations — so it gave Daniel peace of mind when Aaxon's recommended and pre-prepared (basic infrastructure) location aligned with his own findings. Once the laundry location was solidified, Daniel (often accompanied by spouse, Jamie) visited 20 successful laundromats to learn best practices and gather inspiration for new ideas.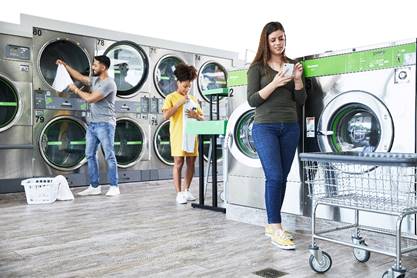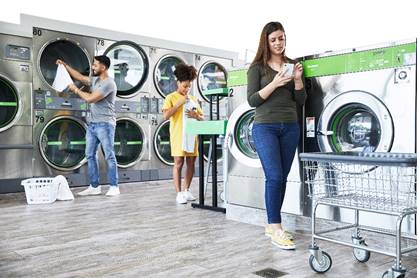 Comfort and Aesthetics
Daniel and Jamie Yoon's vision for the new laundromat was to make it extremely welcoming and comfortable. Daniel also envisioned bringing a "southern hospitality" feel to the operation — something he experienced in Memphis. Instead of accepting some of the recommended color schemes (blues, blacks and darker grays) and layouts, Jamie worked with Aaxon staff to select a palette of lighter grays.
To bring additional warmth to the operation, Jamie selected simulated-wood floor tile and she specified custom bulkheads and shelving. Like other progressive stores, DJ's provides local and national programming on four large-format plasma screens. It also offers surround-sound radio and Wi-Fi (with 110 MPS download speed) allowing patrons to stay connected. Wi-Fi service enhances other technologies the laundromat offers. Vending machines containing detergent, snacks and beverages contribute to visitor comfort and convenience.
Friendly Staff
Daniel's other priority was to hire quality staff to help bring his vision of "southern hospitality" to life. His operation is staffed with two full-time and three part-time employees. Drawing on his own experience, as well as on his visits to other successful operations, Daniel personally trained his staff. He emphasized the need to greet customers and prospects and to develop personal customer relationships. Top priorities for Daniel's staff were friendliness, cleanliness and exemplary customer service.
Cleanliness
The cleanliness of an operation is critical to customer retention. Yet, Daniel always tries to bring something unique to the business. In addition to keeping the overall premises and bathrooms clean, he went a little further by ensuring staff kept all the machines as clean and neat as possible after use — inside and out. When not assisting a customer or washing/folding/drying, employees remove lint and ensure the insides of washer-extractors and tumblers are free of residue and any other matter. To distinguish a "prepped" machine from others, staff leave the doors open a crack to denote availability. Daniel feels this simple step demonstrates a high level of customer care — the kind associated with a premium laundry operation.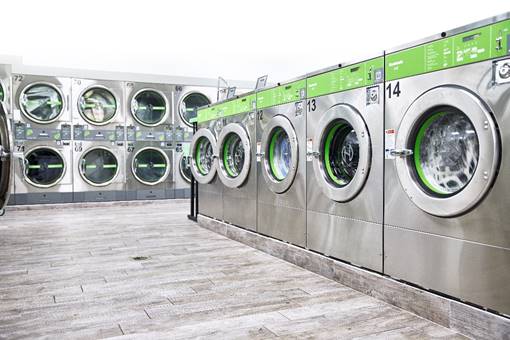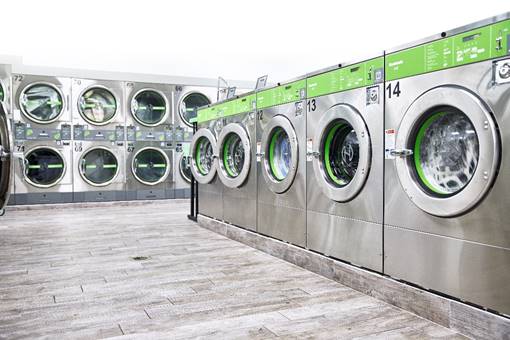 Customer Services
The laundromat offers wash, dry, fold services. They also collect dry cleaning, which they subcontract out at a negotiated price to keep the customers' costs for this service reasonable. Another advantage to customers, though, is that they can drop off their dry cleaning during a larger time window because the typical dry cleaner is open fewer hours. For customers, it is a one-stop proposition. which provides additional convenience. Starting in June, DJ's Laundromart will also offer a pick-up/drop-off service as an additional customer convenience.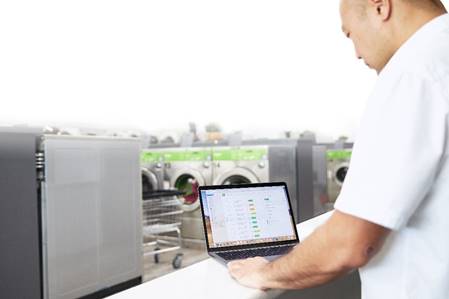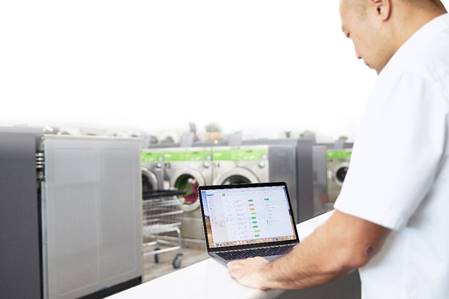 Galaxy Control and Huebsch Command Technology
To maximize revenue and keep the business running at peak efficiency, Daniel chose to equip his washer-extractors and tumblers with the Huebsch Galaxy 600 Control. Using Huebsch Command, a wireless, cloud-based system designed to work with the Galaxy Control, Daniel can program and obtain real-time information about his machines, from anywhere there is an internet connection.
As an example, Daniel uses the multi-level vend pricing feature, allowing him to charge extra for warm or hot water. If he chooses, he can also charge time-of-day pricing to manage peak-time customer usage and attract new customers with incentives. The Galaxy 600 Control also allows him to optimize efficiency by programming water levels and otherwise provide customers with the ability to customize loads to save on utilities while delivering the best results. The Galaxy Control (via Huebsch Command) can also send machine error alerts (as well as other notifications) allowing Daniel to schedule maintenance and diagnose and trouble-shoot machines remotely.
It is through the Huebsch Command system that Daniel noticed the increasing use of the payment app (20 percent) versus coins (80 percent). Part of the customer service training is to train customers on the use and benefits of the app. Daniel notes that use of the app is beneficial since it sheds more light on machine usage quickly, given the coin vaults are only emptied every few days.
Coins, Cards or Huebsch Mobile Payment App
When visiting the other 20 laundromats during his research phase, Daniel paid close attention to payment options. In talking with the owners, he learned that a strict "coin" laundry sometimes had the perception of being old, dirty and run down — a place where machines often did not work, contributing further to negative perceptions.
Stores using strictly card payment saw issues when the payment cards were lost, which led some operators to charge a deposit for them — a measure customers did not always appreciate. Other times, the cards' magnetic strips stopped working. Daniel felt the cons of card payment outweighed the pros. While it seemed like he would necessarily have to offer coin operation, he felt the next best option was for customers to use the free Huebsch app with their smartphones. The phones could interface with the machines, using the store's Wi-Fi, keeping the transaction both safe, easy and convenient. In fact, Daniel's operation is one of the first to use the Huebsch app in the state of Florida.
Patrons using the Huebsch app at DJ's also enjoy promotional offers — sometimes used to drive up business during off-peak periods. The app also allows the accumulation of award points. Points can be redeemed for rewards that help build customer loyalty. Another promotion Daniel uses with the app is a bonus deposit, wherein $20 deposited in the app is increased to $22 of value.
In concert with the Huebsch Galaxy 600 Control and Huebsch Command, the app allows customers to check machine availability in advance and also lets them know how much time remains on their wash or dry cycles.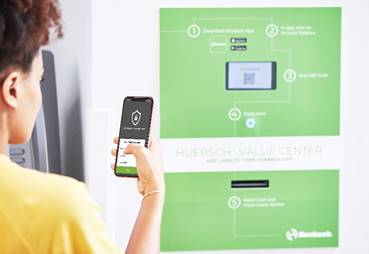 Social Media and Google AdWords
Daniel has used a variety of promotional methods to get new customers and increase business … from flyers, to deals communicated through the app, to social media. Increasingly, he has been experimenting and relying on his Facebook page and Google AdWords. With the help of his Google representative, Daniel picked certain keywords to help bring his site higher in the Google search order. Using Google Analytics, he was able to refine the keywords to help maximize site visibility. He started with a monthly cap of $50 per month, but soon found that the increased exposure warranted a $300 spend in AdWords.
Changing Perceptions
One of the strategies that DJ's Laundromart is pursuing is to change the perception many people have of the typical laundromat. Among the views is that laundromats cater to low-income neighborhoods, teeming with families and children. Further, they are often perceived to be uncomfortable, poorly lit, dirty and not well maintained. Yet, through choice of location, interior design, cleanliness, exceptional customer service, high-quality machines and advanced technology, Daniel believes he is starting to change the negative perceptions in his trading area.
Daniel is also trying to appeal to higher income parents through a different approach: the value of time. Locating his store in a medium-priced neighborhood was designed (in part) to support this strategy. Rather than monitor laundry over a several hour period, given the limited capacity of household machines, Daniel is promoting the idea that customers can drop off and get their laundry done quicker at his laundromat. When the opportunity presents itself, his staff talk with customers about the value of time. While it may be somewhat more expensive to wash and dry clothes at a laundromat, he notes customers must think about their utility costs and machine wear and tear as well. Most importantly, they need to place a value on their time.
"It's an educational process," Daniel said. "But, part of our goal is to change the mindset at home and help people understand their time is valuable. Given the use of the Huebsch app, this particular customer segment can put their laundry in a machine and then free themselves up for a short period to do other errands, while their load is in a machine. Rather than spend a day doing laundry, they can get it done at the laundromat in a few hours. This allows customers to spend more quality time with their families."
DJ's Laundromart is experiencing an early, and unprecedented level, of success, due to his formula of learning and applying best practices used by successful laundromats, leveraging new technologies, and applying new ideas.
The Yoon's 3,020-square-foot operation is open from 7 a.m. to 11 p.m., Sunday through Thursday and from 7 a.m. to 12 p.m. Friday and Saturday. An attendant is always available to greet and help customers.
To learn more about Daniel Yoon and his business watch this video. Daniel was also featured in the June issue of Planet Laundry.

GALLOWAY ENTERPRISES
COIN LAUNDRIES
A serendipitous meeting leads to a lasting friendship, career change, and a profitable multi-store business venture.
Click here to view more Huebsch videos.