As a Huebsch® customer, you receive the peace of mind that only comes from doing business with a company that's been in the laundry business for more than 100 years. Our clients value working with a firm dedicated to keeping jobs in America by maintaining its base of operations in Ripon, Wisconsin.
Huebsch® also has the force of Alliance Laundry Systems, the world leader in manufacturing commercial laundry equipment, behind it. By working with Huebsch®, customers gain access to Alliance's industry-leading services, such as in-house financing, a nationwide network of distributors and service personnel, demographic and site selection analysis, store layout and design, superior customer service and operations/marketing assistance.
The owners of The Laundry Café in Pennsylvania explain how Huebsch® washers and dryers save their customers valuable time and money.
Self service laundry owners appreciate the one-on-one attention Huebsch®'s highly trained distributor staff provides. They are your local experts, who will help you navigate the waters between idea and grand opening. You can rely on Huebsch® professionals to help you choose the proper mix of equipment, line up contractors, monitor construction and installation and much more.
Your Smart Laundry Partner
Success in the laundromat business is determined long before the "Open" sign is switched on. That's why it's paramount to work with an experienced partner. With more than 100 years in the laundry business and a distribution network ranked at the top of the industry*, Huebsch® truly is your smart laundry partner, guiding you every step of the way with a host of services, including: In-house financing with fast approvals
Demographics analysis
Site selection assistance
Store layout and design
Operations/marketing help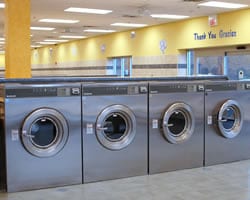 Success Stories
Learn how Huebsch® is helping customers around the world reach their business goals.
Watch Videos
Request a quote
Fill out a form to request a quote from a Huebsch sales specialist.