Huebsch Expands Already Powerful Huebsch Command Platform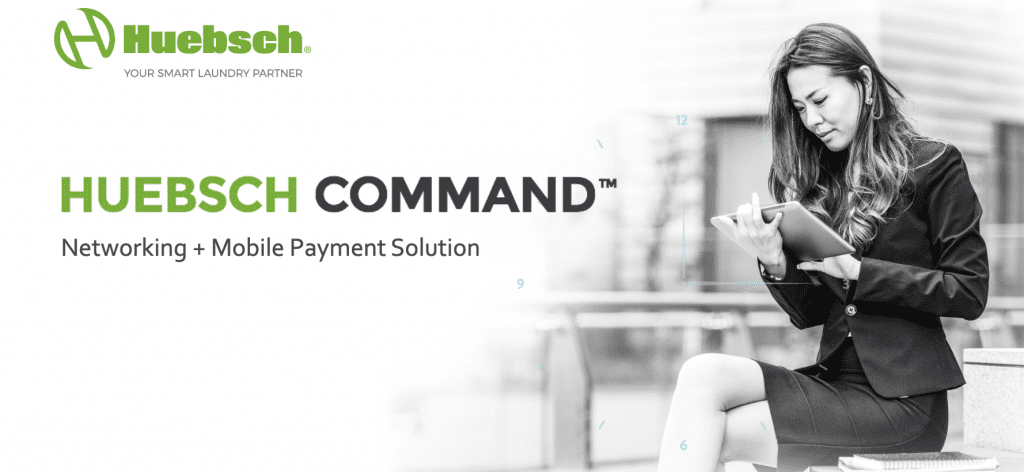 [Ripon, Wis., October 3, 2019] Huebsch commercial laundry equipment, recently expanded its Huebsch Command vended laundry management platform. The new release enables laundromat owners to run their entire in-store business with one platform. It includes the addition of the Huebsch Point of Sale (POS) and Customer Relationship Management (CRM) systems, offering unprecedented capabilities within the laundry industry.
"Huebsch Command now offers even more exceptional tools to help laundry owners streamline operations," said Huebsch North American Sales Manager Kathryn Q. Rowen. "With POS and CRM components, this system is a game changer and a true all-in-one solution for management."
With the POS system, laundry owners get all the benefits of Huebsch Command with the addition of incorporating over-the-counter and wash-dry-fold (WDF) sales. A consolidated database for WDF and self-service analytics further streamlines store marketing and operations.
By adding the CRM marketing component to the already powerful Huebsch Command, owners are able to easily filter data and market to customers. No longer are owners just monitoring their business, the CRM gives them the power to segment data based on customer history, launch marketing campaigns based on those insights, and, as a result, improve profitability. Data can be filtered by:
Type of customer (self-service or WDF)
Time since last visit
Average spend for self-service, WDF or goods
Day of week
And more
Having a consolidated view of store data and customer history in one spot, gives laundry owners all the tools to drive traffic, build sales in profitable areas of the business, increase loyalty, re-engage lost customers, and craft promotions targeted to specific customers. The possibilities are virtually limitless.
When this functionality is combined with the Huebsch app and Huebsch Rewards, owners have all the elements of the industry's most complete, cutting edge laundry system.
Best of all, the system comes standard with Huebsch Care, meaning it is factory supported by the global leader in commercial laundry for additional peace of mind.
To learn more about Huebsch Command or schedule a demo of the technology, click here or call 1-800-553-5120.
###
About Huebsch:
Since 1907, Huebsch has manufactured durable commercial laundry equipment engineered for efficiency, reliability and optimal performance. Commercial laundry is our only focus and we back our equipment with an industry-leading warranty. Throughout our decades in the commercial laundry business we have continually innovated. We now produce some of the most efficient and cost-effective washers and tumble dryers in the world. Our equipment is supported by a network of knowledgeable distributors and service professionals. Our customers further benefit from an extensive set of financing options provided by Huebsch Financial. Huebsch is part of the Alliance Laundry Systems LLC family of brands. Alliance is the leading global manufacturer of commercial laundry equipment and provider of services to laundromats, multi-housing laundries and on-premises laundries. To learn more about Huebsch, visit Huebsch.com.