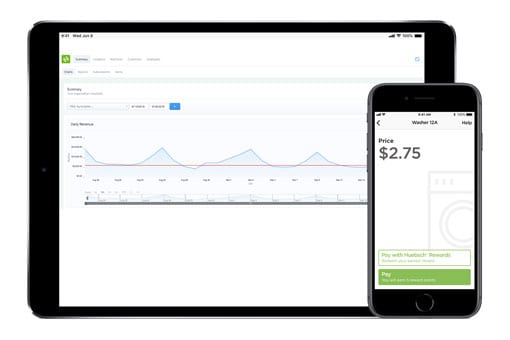 Huebsch launches advanced technology solutions for laundromat owners
Huebsch®, your smart laundry partner, introduced its cutting-edge network and payment technology – Huebsch Command™– to help vended laundry owners make smarter business decisions. The technology is now available to order for vend models with the Galaxy 600 control.
"The vended laundry business has changed and owners need a more streamlined, data-driven approach to managing their business," said Kathryn Rowen, North American sales manager for the Huebsch brand of laundry equipment. "With Huebsch Command, we are extending our already strong partnership with store owners and giving them access to advanced information, more convenience for their customers and ultimately, helping them to operate a more profitable business."
Huebsch Command is a smart technology that wirelessly networks washer-extractors and tumble dryers and makes all operations data accessible from the cloud. With the user-friendly dashboard owners can:
See store (and multiple stores) performance data
Receive error alerts
Configure machines
Set time-of-day pricing
Adjust water levels
Offer refunds remotely
See comprehensive revenue and machine error reports
Offer a flexible rewards program
In addition, the payment system enables owners to provide additional convenience to their customers through mobile payments, machine cycle notifications and store loyalty incentives.
For cash-based customers, the Huebsch Value Center lets them access the convenience of the mobile app while paying with cash.
Owners get all of this functionality from one integrated system that is factory installed and factory supported. No more juggling separate systems for equipment and payment to get a full view of operations. Huebsch Command puts control at your fingertips in one place, with no drilling and minimal hardware.
The system, which is configurable for the brand's Galaxy 600 controls, enables owners to set key performance indicators (KPI) goals and track their progress
through quick-view dashboards. Multi-store owners will appreciate the ability to drill down into turns and revenue data by location or display all locations. Customizable date ranges and export capabilities (PDF or Excel) make the information even more user-friendly and actionable.
"We developed Huebsch Command to be the most easy-to-use system on the market," Rowen said. "I'm confident owners will experience that in tailoring information into the reports most meaningful for their business."
Best of all, Huebsch Command is flexible, giving owners access to data whenever they want from anywhere in the world with an internet connection. They can even be alerted of any equipment issues via text message or email.
Like all Huebsch products, this game-changing management solution comes with the exceptional support that Huebsch is known for and skilled distributors – a network that earned the highest Overall Distributor Quality Score in a 2014 Leede Research Customer Value Analysis.