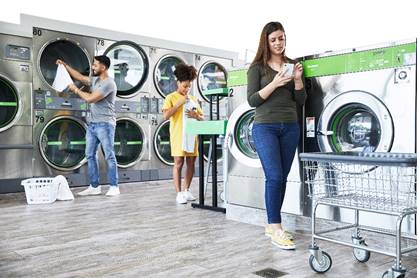 Customer traffic light? Time to step up your laundromat's marketing efforts
Many laundromat owners have a great facility, high-quality commercial laundry equipment, and advanced laundry technology, but they're still struggling. They have all the ingredients of a successful laundromat business, but they stumble in getting the word out to attract new customers. If you're fighting to spread the word about your laundry business, have no fear. We've put together some easy ways to help you promote your laundromat in the community. 
Get active online 
Increasing online marketing efforts is one of the best ways both new and existing laundromat owners can help market their businesses. In fact, "near me" or "close by" Google searches grew by more than 900% over recent years. There's no better time than now to dedicate more resources to online marketing and boosting your laundromat's online presence. Here are a few suggestions to help your laundry business see success online: 
Create or update a website that includes up-to-date photos of your business and important contact details (such as your address, phone, email, and social channels).

 
Complete or update your social profiles, such as Facebook.

 

Shorten response time for comments, messages, and emails.

 

Budget for social advertising.

 

Start a laundry blog that focuses on laundry tips and tricks your customers can use.

 

Start collecting email addresses and launch an email campaign to better connect with existing customers.

 
Update your Google My Business profile and other local listings to make it easy for people in the area to find you.

 
Host an event 
While laundry is generally considered a "chore," you can make it fun by hosting an event and turning your laundromat into a go-to destination for new and existing customers. Everyone loves entertainment, food, freebies, and giveaways, so it's an effective strategy to generate word-of-mouth buzz and ultimately get customers in the door. Depending on your event, you may even get some attention from local media. A few events you might consider hosting at your laundromat include: 
A grand opening to celebrate the start of your laundry business.