Multi-Housing
Stacked Washer – Dryers

If you're searching for an innovative laundry equipment concept that saves space in your laundry room, look no further than Huebsch® stacked washer/dryers. The freestanding softmount design takes up half the floor space of a conventional washer and dryer and can be installed on all floor types or levels.
Both washer and dryer have the same hookups and connections as a standard washer and dryer, boast industry leading spin speeds, Wash Alert™ capability, a stainless steel washtub and more. Huebsch's stacked washer/dryer combines heavy-duty construction with reliable operation proven to stand the test of time.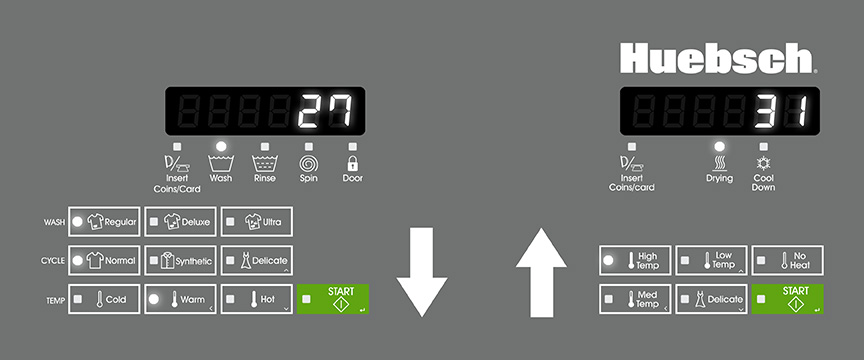 Controls
Quantum® Gold Pro
The Quantum® Gold Pro control delivers a truly premium experience to residents. From intuitive soft touch buttons that walk them through cycle options to multiple actuations (coin, card, mobile) for payment flexibility, this control gives residents the wash and dry options they want, and the revenue potential managers desire.

Controls
Electronic
Electronic homestyle control is designed for durability and easy operation with attractive selection buttons and cycle status indicator lights.
Specs
Product Features
Integrated meter case
Large capacity meter case standard
Wash Alert™ capability WASHER (ADA Compliant)
Rugged suspension system
Industry leading 1200 RPM spin speed exerts 440 G-force extraction
Durable stainless steel washtub
Four-compartment soap dispenser
Extra-wide 15.5 ̋ door opening and 180º door swing DRYER
Upfront lint filter easy to clean and secured
Industry's largest door opening 2.06 sq. ft. (1914 cm2)
Quiet, efficient blower system