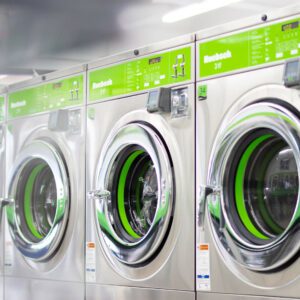 Why a full-service distributor is important
Still think it makes more sense to save a few dollars buying from a dealer than opting for a full-service distributor? Think about the experience of a vacation rental business in the Gulf Coast that went through two dealers.
Issues from the first experience came immediately after equipment install. Because the dealer didn't ask questions up front, tumblers lacked a reversing feature necessary for drying sheets. The results were wasted time and utilities. Problems with the second dealer took longer to see. With no in-house service, they left the business scrambling when the outside technician stopped servicing their equipment.
While this is an on-premises laundry example, the message is the same for laundromat owners and new investors – service and support matter. Below are thoughts on why full-service distributors make a difference for laundromat owners.
Local experts. When entering the laundromat business, location is of paramount importance. Full-service distributors not only have advanced knowledge of their markets, but many have also already identified viable locations for newcomers to the business. In addition, they also can perform demographic analysis. Dealers often serve wide areas of territory and possess only basic market information.
Design and equipment selection. The laundromat business is far more than filling a building with equipment and switching on the open sign. Taking that demographic information, analyzing it, and turning it into an equipment plan that matches the needs of customers in the market is a key skill that full-service teams can deliver, and dealers cannot. That advantage extends further with in-house design resources to craft a plan that features the most profitable equipment.
Advanced services. Like the example above illustrates, services matter. In-house installation crews, service technicians, and parts departments are concrete evidence on how you'll be supported long after the sale, versus dealers relying on outsourcing of these key services. Access to financing, service training and more, reinforce the value that full-service distributors provide.
During inflationary times, we are all trying to do more with less. However, opting to save a little by working with a dealer instead of a full-service distributor can be costly in the end. Make sure you ask the right questions up front to ensure your laundromat business is taken care of before, during, and after the sale.
If you own or operate a laundromat with outdated equipment that requires constant repairs, you probably have a hard time competing with other businesses that have new machines. Instead of watching your customer base decline week after week and accepting defeat, you can refresh your laundromat with new washer-extractors and tumble dryers and get back in the game. While replacing laundry equipment can be an expensive endeavor, you might be surprised by the quick return on investment, particularly with finance promotions that keep payments low.
There are several tax benefits that encourage businesses to invest in themselves and buy new equipment. One of them is the Section 179 Tax Deduction, which allows businesses to deduct 100% of the cost of eligible new equipment purchases from their gross income.
With these tax benefits, you'll enjoy increased retained income for your laundromat.
With new laundry machines, the need for costly repairs and maintenance drops significantly. So instead of spending time and money on repairs, you can focus on taking steps to improve your laundromat's position in the market.
When equipped with new washer-extractors and tumble dryers, your laundromat sports a more modern and visually appealing look that will draw customers in and keep them coming back.