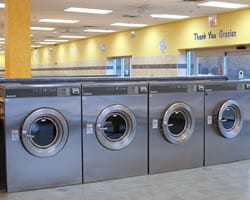 Remind your customers of what you have to offer
Summer can be one of those slow periods in the laundromat business. Customers may be on vacation. Loads are smaller – hotter temps mean we are wearing lighter clothing and less of it…no need for those 100-pound washer-extractors. Customers visits, as a result, might be less frequent.  
 While we are still in the throws of summer and temperatures are likely to stay hot across the country, the good news is that as kids head back to class, business will tick up. Below, we'll share some thoughts on giving customers reasons to come back to your laundromat as fall approaches. 
 Large capacity for large loads. Remind your customers (and prospective customers) that your largest washer-extractors and tumbler dryers make short work of quilts and comforters. They're also perfect for preparing all those school clothes for the year ahead. 
 Tout your wash-dry-fold. As the summer winds down, people tend to get busier – running kids to practices, school events, etc. – so, wash-dry-fold may hit people when they are receptive to shedding a time-consuming task.  
 Pick-up and drop off. Same as the above. This takes convenience to the next level and brings a truly premium service. If you aren't offering this service, perhaps it's worth considering.  
 Bring in new customers. All of the ideas above are perfectly suited to middle- to higher-income areas – definitely not your regular customer base. However, pursuing advertising options that hit these areas in your market often can help bring in customers you didn't initially target when you opened your laundromat. This audience is incredibly receptive to the idea of time savings, which your laundromat offers through the services above.  
 These are just a few ideas to engage your customers and bring them back in as summer begins to wind down.