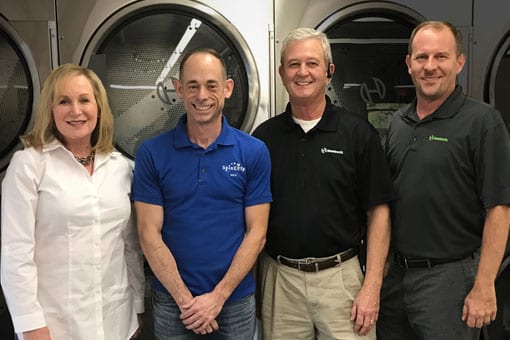 Tennessee Laundromat Owner Named Huebsch® Store Owner of the Quarter
Huebsch® commercial laundry equipment manufacturer, provider of unrivaled customer service through the industry's top-rated distributor network, has named Mark Hickey the latest recipient of its Store Owner of the Quarter award. With the support and advice he received from his distributor, and by replacing outdated machines with new durable Huebsch equipment, Hickey's two Spin City laundromats have become very successful businesses.
"Hickey is an accomplished laundromat owner and is dedicated to providing quality customer service," said Kathryn Rowen, Huebsch North American sales manager. "Hickey always puts his customers first and goes out of his way to make them feel welcome. We look forward to building this partnership with Hickey and watching his businesses continue to grow."
Prior to investing in laundry, Hickey used his accounting degree to work his way up to treasury manager for Circuit City in Richmond, VA. In 2009 the company closed and he decided to move back to Memphis to be closer to his family and began researching potential investment opportunities that would provide a stable income during the recession.
Following his research, Hickey made the decision to purchase a laundromat and he turned to Mike Leake from Memphis-based Larry & Mike's Laundry Services for guidance. Leake helped Hickey find and evaluate a number of existing laundromats that were available for sale, and Hickey purchased two stores – one in Millington, Tennessee and one in Horn Lake, Mississippi.
Hickey needed to replace some of the equipment right away and wanted to feature a single brand of equipment in his stores. Leake recommended Huebsch equipment, due to the quality of the machines and the manufacturer's dedication to providing an innovative suite of products.
"There were already a few Huebsch machines in my stores and they were more durable and efficient compared to the other equipment," Hickey said. "Mike Leake helped advise me on the equipment, as well as many other important decisions I needed to make in order for my laundromats to succeed."
A few years after acquiring his laundromats, Hickey decided he wanted to move his businesses to new buildings to improve the look and feel of his stores. Hickey worked closely with Huebsch Laundry Design services to determine the best layout for his stores, as well as Huebsch Financial to finance his equipment replacement in order to provide the best mix of machines for his customers.
Both new stores were designed to provide customers with plenty of space. Hickey also offers a variety of amenities to make the experience at the new Spin City stores more enjoyable, including free Wi-Fi, wash-dry-fold service and vending machines, as well as an ATM at the Horn Lake store.
"The existing customers are happy with the new locations and new customers are drawn to the businesses due to the extra space, amenities and Huebsch equipment," shared Hickey.
With hard work and Leake's industry expertise, Hickey has created an incredibly successful laundry business.
"Mike Leake really took me under his wing when I was getting started and I'm so grateful for his continued support over the years," Hickey concluded. "He's been a great partner."
Introduced in 2014, Store Owner of the Quarter recognizes Huebsch store owners who have excelled in entrepreneurism, technology adoption, innovation and superior customer and community service. Read Hickey's story and others at Huebsch.com/News/Store-Profiles.
For more information on Huebsch and its distributors – a network that earned the highest Overall Distributor Quality Score in a 2014 Leede Research Customer Value Analysis – visit Huebsch.com/contact or call 1-800-553-5120.
Media contact: Meghan Campbell, 414.292.0217 or mcampbell@n-s.com