Multi-Store Owner Named Huebsch® Store Owner of the Quarter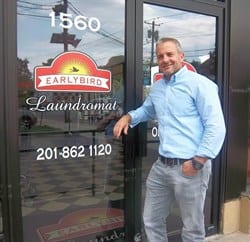 Huebsch®, provider of unrivaled customer service through the industry's leading distributor network, has named Curtis Berger the latest recipient of its Store Owner of the Quarter award for the growth and success he has achieved with his six – soon to be seven – Earlybird Laundry stores located in northern New Jersey.
"Curtis has seen tremendous growth since entering the laundry industry 15 years ago. He proves that a hardworking attitude accompanied by a supportive distributor and manufacturer will lead to success," said Kathryn Rowen, North American sales manager for Huebsch. "We look forward to seeing what the future holds for Curtis and continuing to support him on his journey."
After receiving his Certified Public Accountant (CPA) accreditation and pursuing a career in mortgage-backed securities in New York City, Berger decided to leave banking and courageously follow in his great-grandfather's footsteps, pursuing a small business venture.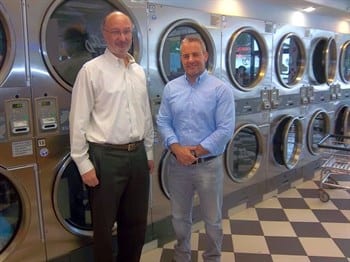 He moved to New Jersey and opened his first drying cleaning business in 1996 and achieved great success. Five years later, Berger decided to sell his dry cleaners and open retail laundromats equipped with machines and technology that would allow him to manage multiple stores remotely. Since opening his first laundromat in 2000, Berger has been able to open a new store every two years, currently owning and operating six stores.
Throughout his journey, Berger relied on Cliff Ross, his trusted sales manager from Metropolitan Machinery, to guide him in selecting durable equipment and viable locations.
"Cliff is familiar with the demographics of specific regions I'm interested in. He is able to help me make location decisions by reviewing variables including percentage of renters, people per household and income levels of the local population," says Berger.
Berger adds that Ross' invaluable industry knowledge has not only made him a loyal Metropolitan customer, but also a successful businessman, continuing to grow and expand Earlybird locations. Berger's dedication to his laundry business and his drive to continue to grow has earned him the title of Store Owner of the Quarter.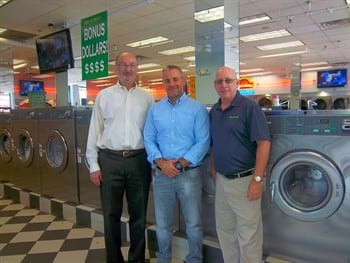 "I continue to choose Huebsch equipment not only because I have a strong relationship with my distributor, but because I have seen them evolve over the past 15 years, much like my own business. I am confident that Earlybird Laundromats will continue to grow in the 15 years to come," says Berger.
Introduced in 2014, Store Owner of the Quarter recognizes Huebsch store owners who have excelled in entrepreneurism, technology adoption, innovation and superior customer and community service. Read Berger's story, and others, at Huebsch.com/News/Store-Profiles.
For more information on Huebsch and its distributors – a network that earned the highest Overall Distributor Quality Score in a 2014 Leede Research Customer Value Analysis –
visit Huebsch.com/contact or call 1-800-553-5120.
About Huebsch:
Since 1907, Huebsch has manufactured durable commercial laundry equipment engineered for efficiency, reliability and optimal performance. Commercial laundry is our only focus and we back our equipment