Modern History – Historic Inn Upgrades To Laundry That Fits Modern Ideals
Huebsch distributor, Kory Orchard of East Coast Laundry discusses how he helped the Marnier King Inn, a historic hotel in Lunenburg, Nova Scotia redesign their laundry room. Working with limited space, Orchard equipped the hotel with Huebsch machines capable of keeping luxury linens and towels in quality condition for guest use.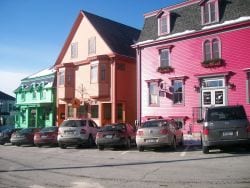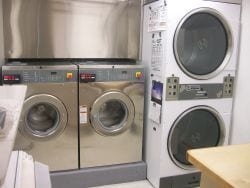 When it comes to harmful impacts on the environment, laundry gets a bad rap. Unfortunately, there's really no way around the fact that hotels need to do their laundry. Susan Reibling, owner of the Mariner King Inn in historic Lunenburg, Nova Scotia, found a supplier who provided her with the products that were not only right for her business, but for the environment.
Renovating part of a UNESCO World Heritage Site is not something every entrepreneur has to deal with or even consider, but Reibling made it a hobby about 10 years ago. Living in Lunenburg, which was declared a UNESCO World Heritage Site in 1995, Reibling heads investment company Stellar Investments Inc. Under this company, Reibling owns at least three businesses in Lunenburg: kitchenware shop Cilantro: The Cooks Shop, Italian restaurant Trattoria della Nonna, and the newly renovated Mariner King Inn purchased in 2007 and the four and a half star inn in Lunenburg. All of these businesses are located on King Street, which according to Reibling has been nicknamed "UNESCO FRESCO."
As Reibling had learned over her decade of experience, renovating historic buildings isn't easy. The problem becomes, how do you keep the feeling of centuries of history within a building while renovating? After all, the Mariner King Inn was constructed in 1830 and to leave it exactly how it was over a hundred years later might lead to some serious building code violations. It takes care and serious attention to detail. Reibling considers the blue-grey façade with the white and red trim to be her crowning achievement. Reibling also admits that she's had her critics when it comes to her renovations, but the support and approval she's received has been most agreeable. Renovations included expanding the Mariner King Inn by adding rooms and suites to the Candy Apple and Cranberry buildings, which opened in the summers of 2009 and 2010, respectively. An elevator was also added to allow wheelchair accessibility.
"You know you've done a good job when one of the family members brings you two old clocks and family photos from the original house, as they felt those items needed to come back. For that I'm thankful," says Reibling.
But once the renovations were completed, giving the Mariner King Inn a total of eight suites and six rooms, with a capacity of approximately 30 people, the issue became how to keep the place four and a half stars without compromising its historical character. And this applied particularly to their laundry. Towels and sheets, not to mention the linens from the dining room, needed to be kept in top shape to ensure the high-end quality of the Mariner King Inn. This is why Reibling went with East Coast Laundry Equipment.
"East Coast Laundry Equipment has a very good reputation and carries an excellent product, and Kory [Orchard] is personable and attentive to issues," says Reib-ling, commenting on East Coast Laundry Equipment's sales manager Kory Orchard who oversaw the project.
"This was a very fun and unique project," says Orchard, commenting on getting the chance to work in a UNESCO World Heritage Site. "The owners were making significant renovations to a building that was over 100 years old. Due to the various business requirements of the facility the laundry room was fairly compact so we needed equipment that could produce what was required in a smaller floor space."
East Coast Laundry Equipment supplied the Mariner King Inn with two Huebsch HCN030 – 30LB Capacity Galaxy 400 Washer/Extractors and one Huebsch HTT45 Stacked 45LB Capacity Gas Dryer. The washer/extractors may look small but are in fact made for commercial use. This is perfect for a place like the Mariner King Inn, which considering was built in the 1800s as a tribute to King William, no accommodations were made in its floor plan for a giant, commercial use laundry. The washer/extractors fit snugly into the Mariner King's laundry room. And, as already mentioned, they are up to the job. They can hold up to a capacity of 18 pounds. East Coast Laundry Equipment also installed smaller, coin-operated Huebsch equipment to be used by the Marine