Huebsch Names Gulf States Laundry Machinrey Distributor Of The Year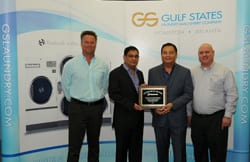 Ripon, Wis. – April 2, 2012 – Gulf States Laundry Machinery was recently named the 2011 Huebsch Distributor of the Year. The award was presented based on year-over-year increase in overall sales, professionalism, ongoing training and other customer support criteria.
"Our manufacturing facility can deliver machines, but it's distributors like Gulf States that make our products stand out to customers," said Gary Dixon, National Sales Manager for Huebsch. "We appreciate the hard work of everyone at Gulf States and look forward to a long partnership with them."
Founded in 1984 and headquartered in Houston, Gulf States is recognized as one of the nation's premier dry cleaning equipment distributors in the industry. The company began offering coin and on-premises laundry equipment three years ago and chose to represent Huebsch products. The distributor runs regular open houses, service seminars and prides itself on having a huge inventory and a parts department that is open six days a week.
"For us, this is a great accomplishment in a very short time," said Pravin Parmar, co-owner of Gulf States. "We only represent products we truly believe in and Huebsch is one of them. Manufactured by Alliance Laundry Systems in the U.S., Huebsch is the perfect partner for Gulf States, as we share the same vision, 'our customers come first.'"
In addition to its Houston location, Gulf States also has a branch office in Atlanta. The distributor services southern Texas and Georgia.